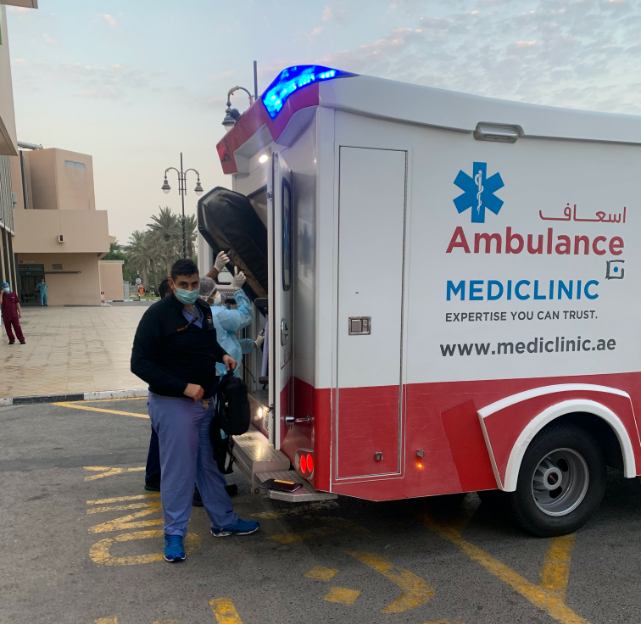 San Antonio Critical Care Physician Breaks World Record with Life-Saving International ECMO Flight
San Antonio Critical Care Physician Breaks World Record with Life-Saving International ECMO Flight
Portland, oregon to United ARab Emirates
San Antonio's Dr. Jeffrey DellaVolpe and a team of clinicians finish 30-plus-hour critical care journey from Portland, Oregon, to the United Arab Emirates
SAN ANTONIO, (Date), 2021 — ECMO Transport, a leading extracorporeal membrane oxygenation (ECMO) flight transfer organization based in San Antonio, announced today that it has broken the world record for the longest ECMO flight, recently completing a 30.5-hour journey transporting a patient from Portland, Oregeon, to their home in Dubai, United Arab Emirates.
The flight, which departed Portland Friday, August 13 and landed in Dubai on Sunday, August 15, was led by Dr. Jeffrey DellaVolpe, medical director of the Adult ECMO Program at Methodist Hospital in San Antonio and Medical Director of the Cardiovascular Intensive Care Unit at Methodist Healthcare and the Texas IPS Critical Care Service Line. The flight made five stops in five countries to refuel and change flight crews en route to its destination.
"We're incredibly proud to have successfully executed the longest ECMO flight in history," said Dr. DellaVolpe. "This endeavor demonstrates one of our core principles: that patients on ECMO can and should receive the level of care they deserve to go anywhere, without distance serving as a barrier."
During the entirety of the flight, the patient onboard received life-saving extracorporeal membrane oxygenation, one of the most advanced forms of life support for patients experiencing acute failure of the cardio-respiratory system. During ECMO, blood is pumped outside of the body to a heart-lung machine that removes carbon dioxide and sends oxygenated blood back into the body.
The record-breaking flight took the collective efforts of 4 medical professionals, working in shifts with limited space. In addition to administering ECMO treatment, the clinical team transported seven days worth of over 40 medications for the patient, navigated changes in pressure, and adjusted to the logistical challenges of having limited space to place all of the equipment needed for ECMO.
"This flight was challenging, but it really highlighted how our crew was able to work as a cohesive unit under demanding conditions," said Bradford Anderson, RN. "We faced a set of difficult circumstances on this transport, but working together, we navigated the pain points and got our patient across the globe safely."
The previous world record for an ECMO transport flight was 6,500 miles over 21 hours. Though the length of the new record-breaking flight is a feat in itself, it also served as a valuable learning experience for ECMO Transport, which is the only ECMO flight organization that staffs an ECMO trained physician and ECMO primer on every flight. The flight to Dubai opens new doors to international ECMO transfers that had previously not been attempted, and provides new avenues for critical patients to seek treatment or safely travel to be with family.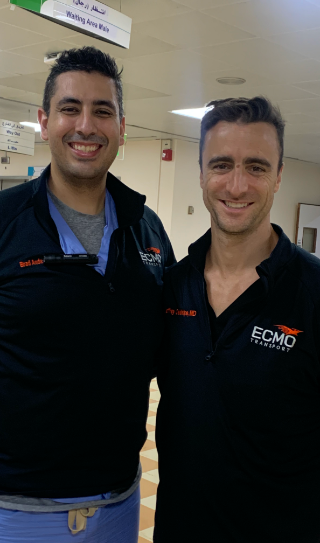 Left: Bradford Anderson, RN
Right: Jeffrey DellaVolpe, MD
---
About ECMO Transport
ECMO Transport, based in San Antonio Texas, is the only ECMO transport team that staffs an ECMO-trained physician and ECMO specialist on every flight, providing the highest levels of attention during critical care transports. ECMO Transports works directly with patients, care teams, and receiving facilities to safely transport patients domestically and internationally, offering fixed-wing transport for any ECMO 24 hours a day, 7 days a week, 365 days a year.
ECMO Transport Website
---
About Texas IPS
Texas IPS, based in San Antonio, is an independent physician owned medical practice specializing in the treatment of pulmonary, sleep, and critical care medicine. Texas IPS' knowledgeable physician staff is composed of highly trained clinicians dedicated to providing high quality care through a patient centered approach using advanced technology and innovation.
About Dr. Jeffrey DellaVolpe
Dr. Jeffrey DellaVolpe received his bachelor's degree at Dartmouth College and attended medical school at Tulane University School of Medicine. He completed his residency in Internal Medicine at Tulane Medical Center and his fellowship in Critical Care Medicine at the University of Pittsburgh Medical Center. Dr. DellaVolpe served as a Flight Surgeon with the 27th Special Operations Wing where he deployed twice in support of Operation Enduring Freedom – Trans Sahara. After completing his fellowship, he was assigned to the San Antonio Military Medical Center where he served as a critical care physician and a member of the 59th Medical Wing Critical Care Air Transport Team and Acute Lung Rescue Team. Currently, Dr. DellaVolpe serves as the Medical Director of the Adult ECMO Program at Methodist Hospital, San Antonio, Texas. He is also the Medical Director of the Cardiovascular Intensive Care Unit at Methodist Healthcare System and the Texas IPS Critical Care Service Line. He serves as chair of the Joint Society of Critical Care Medicine/Extracorporeal Life Support Organization Task Force.